Host Cell Protein (HCP) Kits
Break Innovation, in partnership with German manufacturer BioGenes, has recently launched a new line of generic HCP ELISA kits for CHO and E.Coli cells which far outperform competitor kits for detection of host cell proteins.



A new approach to generic HCPs
Traditional generic HCP Kits:


One assay / antibody to choose from

Problem:


Every process is unique, and no single antibody works well for all processes. As a result, this approach often results in poor coverage

360-HCP ELISA:


Multiple antibodies to choose from

A better approach:


We provide four assays, each using a different anti-HCP antibody, so you can try multiple antibodies to find the one that works best for your process
360-HCP ELISA is the only generic HCP kit that gives you access to multiple antibodies, allowing you to choose the one that works best for your process
Better HCP coverage than competitor kits

360-HCP ELISA has demonstrated better HCP recovery, better dilution linearity, and higher inter-assay precision than competitor's kits.
Better HCP recovery than Cygnus in 65% of samples tested
Chart shows which kit gave
best HCP recovery in
20 samples tested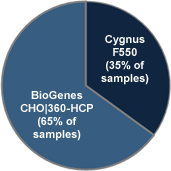 How it works: Overview of evaluation process